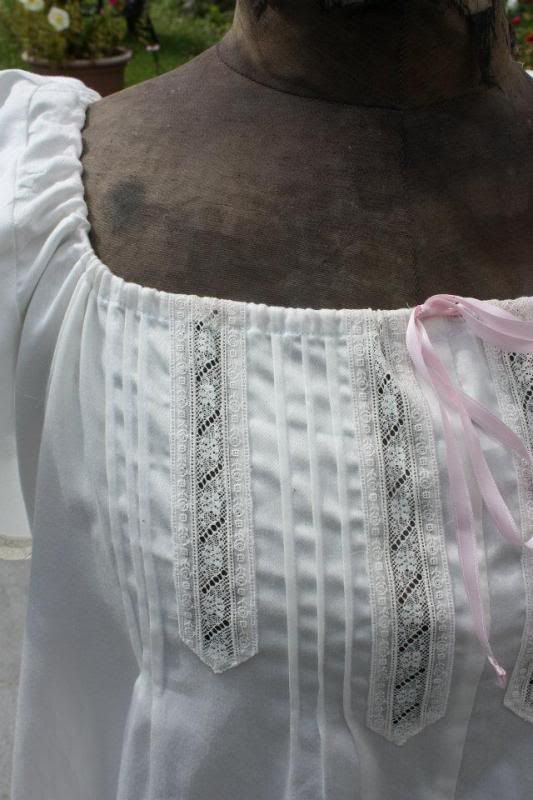 1912 Underwear
My idea for this year's DPP was rather ambitious: I wanted to do three complete outfits that would represent different types of people, and different types of dress that you could see at a garden party or a grand dinner, for example. The original plan was to do dress and underwear for a "Lady of the House", an artistically-minded young girl, and a servant girl. My cousin, who's quite arty, liked the idea and created some designs, and what I ended up making is inspired by her drawings.
As it turns out the plan was a little too ambitious, so not everything got finished. The artistic girl's underwear is limited to a pair of combinations, but considering the type of dress she wears and her figure, she may not need a lot more. The combinations were made from a very light cotton I found in the bargain section of the fabric shop. I drafted the pattern from Frances Grimble's The Edwardian Modiste
and inserted some lace into the trousers and the top.
For the "Lady" I made a cotton chemise, also drafted from Grimble's book, and finished with lace insertion. I took the sleeve caps from another pattern in Grimble's book. The drawers are from Folkwear's Edwardian Underthings pattern and are in a light cotton. Here, too, I added some lace insertion and a ribbon bow at the sides. I dyed the lace with tea to darken the original cream colour and make it work better with the gold-ish bow.
The corset was made from Reconstructing History's 1910s Corset pattern. The fabric for this must be the cheapest corset fabric I've ever used: it's two sofa pillow covers from Ikea, which I cut open. The covers came from the bargain bin and were just €1 each! The corset is boned with light steels, but has a wide, heavy busk. The boning channels are strips of coutil. I used corset hooks and eyes at the bottom and inserted them between the front panel and the busk facing. It was my first time fitting a corset on somebody with actual curves, and though the fit is far from perfect, I'm happy with it.